Street Address:
Union Market, 550 Penn St NE, Washington, DC 20002
Date:
Friday, March 24, 2017 - 6:00pm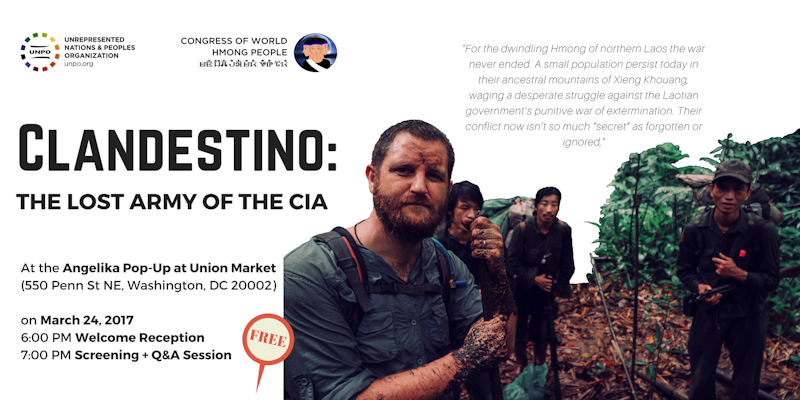 Please come Friday, March 24 at 6:00 pm at the Angelika Pop-Up at Union Market for a FREE screening of David Beriain's documentary Clandestino: The Lost Army of the CIA, produced by 93Metros y 7yAccion in conjuction with The Discovery Channel.
The intrepid documentary film tells the story of the US' most loyal and dedicated allies from that Vietnam War era, the dwindling Hmong of northern Laos, for whom the war never ended. A small population of Hmong persist today in their ancestral mountains of Xieng Khouang, waging a desperate struggle against the Laotian government's punitive war of extermination. Their conflict now isn't so much "secret" as forgotten or ignored, at least by the U.S. and other outside powers. The regime in Vientiane calls these Hmong "insurgents," but Mr. Beriain's extraordinary footage shows that the handful of men, women and children are just fighting to survive.
The screening will be held on March 24 from 6 pm. Complimentary food and beverages will be served during the reception from 6 to 7 pm. Following the screening, one of the film's main protagonists, Mr Gymbay Moua, will discuss the documentary with the audience.
Watch a trailer at vimeo.com/182517280
Register for the event at www.eventbrite.com/e/documentary-screening-discussion-clandestino-the-cias-lost-army-tickets-32407900904